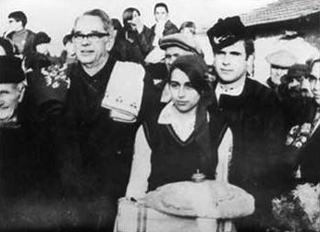 Global Connections
As is often the case with many famous Americans, John Vincent Atanasoff's heritage is located in both the United States and another country where his family connections came from in an effort to improve their lives and fortunes as well as those of their children. JVA's father, Ivan Atanasov was born in Boyadzhik, Bulgaria in 1876, the same year as the April Uprising, when the country was undergoing a revolution against the Ottoman Empire. Fleeing their village, Ivan's father was shot and killed while carrying baby Ivan in his arms. The bullet that killed his father left a scar on Ivan's forehead. JVA's grandmother, Yana Atanasov, managed to escape with Ivan. In 1889 when Ivan was in his early teens, he emigrated to America, traveling with Yana's brother. Upon reaching Ellis Island, Ivan's name was registered as Ivan Atanasoff, and his first name was later changed to John. In America, John (Ivan) Atanasoff built a new life with education and hard work, married Iva Purdy in 1900, and established his career in industrial and electrical engineering. John Vincent Atanasoff, one of four children born to John and Iva, was born October 4, 1903.
JVA was proud of his Bulgarian heritage, and visited the country in 1970, which was then still a Soviet bloc nation. On this visit, JVA discovered friends and relatives he had never before met. Also during this visit, he received the Order of Cyril and Methodius, First Class, Bulgaria's highest scientific honor, and JVA's first national honor for his scientific acheivements. This award was bestowed on JVA three years before Honeywell v. Sperry Rand, the court case that ultimately decided that ideas later patented by other scientists were derived from JVA's work on the Atanasoff-Berry Computer. In 1985 JVA was made a foreign member of the Bulgarian Academy of Sciences and an honorary citizen of Yambol, Bulgaria, the area where his father was born. Another mark of JVA's distinction as an important and valued contributor to Bulgarian heritage is a number of primary and high schools in Bulgaria that have been named in his honor.
In 2003, in celebration of the 100th anniversary of JVA's birth, Bulgaria honored him with a monument, installed outside the entrance to the Bulgarian Telecommunications Building in the capital city, Sofia. The imposing statue features JVA's likeness within a tower of bronze. The monument was created by sculptor Valdo Tsenov, a native of Sofia, and cast by the Cariera Monumental Casting Company.
The JVA Legacy in Bulgaria includes a number of national awards and prizes for technological research. Please visit the website of the President of the Republic of Bulgaria for more information on JVA and the ABC Computer.